ANote Music takes on the French music scene with award-winning royalties catalogue
[English version: ANote Music takes on the French music scene with award-winning royalties catalogue]
Luxembourg – 04th May 2021 – ANote Music, Europe's leading marketplace for investing in music royalties, is pleased to announce its first French listing from EL Éditions, an established, independent French publishing company, including songs from award-winning artists such as Boulevard des Airs and Vianney, as well as many of the nation's rising stars.
EL Éditions is listing 5% of publishing royalties from its catalogue on the ANote Music Primary Market. This includes 248 tracks, across a variety of genres including Pop, EDM, Folk-pop, Rock and Electro. The listing offers investors the right to receive cash flows deriving both from already-produced tracks, as well as from songs that EL Éditions publishes and acquires throughout a 10-year deal horizon. The listing itself has a maturity of 10 years, after which the full royalty stream will return to EL Éditions.
EL Éditions, founded in 2009 by singer and composer Bertrand Louis, has brought together the publishing rights to some of the most successful and promising songwriters and composers in French pop music all under one banner. Amongst these are Vianney, who over the past decade has been named Songwriter of the Year, Male Artist of the Year and Original Song of the Year at the prestigious, Victoires de la musique awards. Also included are Boulevard des Airs, who have been met with huge success thanks to songs such as "Emmene-Moi", "Cielo Ciego", "Demain de bon matin" and "Laisser Faire". The catalogue also contains songs from renowned artists such as TiBZ, June the Girl, Elise Reslinger, Maxime Manot, Chuly Santa Maria, Ulysses from Mars, B'Boy and Trackhead.
Since 2018, EL Éditions' catalogue has generated royalties exceeding €300,000 yearly. With the 5% royalty stream auctioned for €60,000, the listing is set at an entry multiple of 7.00 over the last 12 months' royalties, resulting in an expected yield for investors of 7.07%. The listing gives exposure to a remarkable growth opportunity, with a rebound in the main artists' touring activity, as well as production of new tracks expected to deliver great results.
Marzio F. Schena, founder and CEO of ANote Music, says:"The music industry is enjoying a growth phase, as the increase in streaming has outpaced the decline in physical sales, with the sector expecting to double by 2030 to $131 billion from 2017 levels. These encouraging statistics, along with the universal appeal of music explains why the alternative asset class is becoming increasingly popular worldwide. Our partnership with El Editions has allowed us to expand our international reach and enter the French music market for the first time."
Bertrand Louis, founder of El Editions, adds:"El Editions is honoured to be the first French catalogue listed on ANote Music's platform. We are dedicated to nurturing talented French artists including the likes of Boulevard des Airs, Vianney, Elsie Reslinger and Maxime Manot. I am therefore delighted to offer music fans worldwide the chance to be a part of, and profit from the flourishing French music scene via ANote."
Florent Dasque of Boulevard des Airs, comments: "As an artist, the ability to innovate whilst retaining independence is key. Through listing catalogues up for auction, ANote is offering artists such as myself new financial opportunities, allowing us to keep making music for our fans worldwide."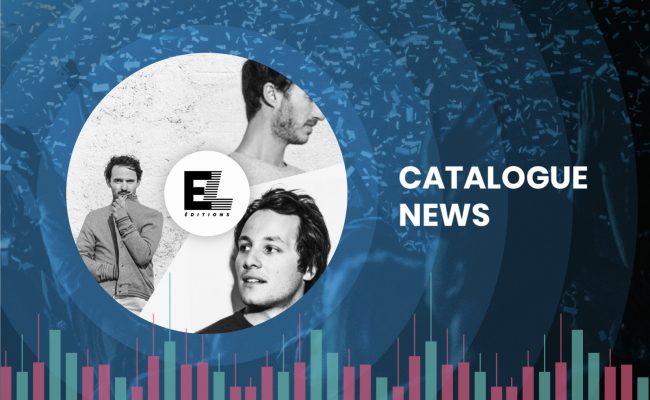 [French version: ANote Music s'empare de la scène musicale francophone pour la première fois avec un nouveau catalogue d'origine française]
Luxembourg – 04 Mai 2021 – ANote Music, principal marché européen dédié aux redevances musicales, est heureux de dévoiler son premier catalogue éditorial français, en partenariat avec EL Éditions, une maison d'édition française indépendante à la notoriété incontestée, représentant les répertoires d'artistes primés tels que Boulevard des Airs et Vianney, ainsi que de nombreuses étoiles montantes de la scène Française.
5% des royalties du catalogue d'EL Éditions seront mises aux enchères sur le marché primaire d'ANote Music. Le catalogue comprend 248 titres de genres variés, pop, folk-pop, rock, EDM et électro. Cette nouvelle introduction sur le marché offre aux investisseurs le droit de recevoir des redevances provenant à la fois de titres déjà produits, ainsi que de chansons qui seraient acquises et publiées par EL Éditions tout au long des dix années de collaboration, durée correspondant à l'échéance du contrat conclu entre ANote Music et EL Éditions, après quoi l'intégralité des redevances reviendra à EL Éditions.
Fondée en 2009 par Bertrand Louis, EL Éditions a réuni les droits d'édition d'auteurs et compositeurs parmi les plus réputés et prometteurs de la musique française. Parmi eux, Vianney, qui au cours de la dernière décennie a été nommé Auteur-Compositeur de l'Année, Artiste Masculin de l'Année et Chanson Originale de l'Année au prestigieux Prix des Victoires de la musique, grâce entre autres aux titres « Je m'en vais » et « Pas là ». Également présents sur le catalogue ; Boulevard des Airs, eux aussi récompensés aux Victoires de la musique et auteurs des titres à succès « Emmène-Moi », « Cielo Ciego », « Bruxelles » et « Demain de bon matin », pour n'en citer que quelques-uns. Le catalogue contient également des chansons d'artistes émérites tels que TiBZ qui a co-écrit et co-composé avec Boulevard des Airs l'hymne des Enfoirés 2020, mais également June the Girl, Elise Reslinger, Maxime Manot, Chuly Santa Maria, Ulysses from Mars, B'Boy et Trackhead.
Depuis 2018, le catalogue d'EL Éditions a généré des royalties de plus de 300 000€ par an. Avec 5% des redevances mis aux enchères pour 60 000€, la cotation est fixée à un multiple d'entrée de 7 sur les redevances des 12 derniers mois, ce qui se traduit par un rendement attendu de 7,07% pour les passionnés qui investissent. Cette mise aux enchères offre donc une opportunité inédite, tenant compte notamment de la reprise prochaines des tournées des artistes principaux, ainsi que la production de nouveaux morceaux. Le tout devrait donner d'excellents résultats et une opportunité remarquable pour ANote Music de se faire connaître du public francophone.
Marzio F. Schena, fondateur et PDG d'ANote Music, commente : « L'industrie musicale profite d'une période de croissance, car l'augmentation du volume du streaming dépasse à présent la diminution de celui des ventes physiques. Il est estimé que le marché mondial de l'industrie musicale pourrait atteindre 131 milliards de dollars d'ici 2030, soit le double de sa valeur de 2017. Ces perspectives encourageantes, ainsi que l'attrait universel de la musique, expliquent pourquoi la classe d'actifs alternatifs que constituent les droits musicaux devient de plus en plus populaire à l'échelle de la planète. Notre partenariat avec EL Éditions nous permet d'étendre notre portée internationale et d'intégrer le marché français et au-delà francophone de la musique pour la première fois. »
Bertrand Louis, fondateur d'EL Éditions, ajoute : « EL Éditions est honoré d'être le premier catalogue français coté sur la plate-forme ANote Music. Nous sommes depuis toujours dévoués à faire connaître et accompagner de talentueux artistes français tels que Boulevard des Airs, Vianney, Elise Reslinger ou encore Maxime Manot. Je suis donc ravi d'offrir aux amateurs de musique du monde entier l'opportunité via ANote de faire partie et de profiter de la scène musicale française florissante. »
Florent Dasque (Boulevard des Airs), commente : « En tant qu'artiste, la capacité d'innover tout en conservant son indépendance est cruciale. En proposant des catalogues aux enchères, ANote Music offre également à des artistes comme nous de nouvelles opportunités, ce qui nous permet de continuer à faire de la musique pour nos ans partout dans le monde, tout en partageant avec eux une nouvelle expérience via ANote Music. »
ANote Music is the European marketplace for investing in music royalties and was founded in Luxembourg by Marzio F. Schena, Matteo Cernuschi, and Grégoire Mathonet in January 2018. ANote Music has identified the power of music as the next big investment opportunity and created a bridge between the music industry and the capital markets. ANote Music enables publishers, record labels, and artists to sell music rights, introducing them to a new system of financing, as well as offering users a new investment opportunity and the chance to own shares in promising artists. In January 2020, ANote Music closed a €500,000-plus funding round, led by the European music industry's foremost players. ANote Music is also supported by Luxinnovation, the Luxembourg national innovation agency, providing access to government funding for the startup.
About EL Éditions
EL Éditions is a French independent publishing company, founded in 2009 by Bertrand Louis then joined by Rodolphe Dardhalon. The catalogue of EL Editions includes more than 240 musical compositions, diversified across genres, published and acquired in over 12 years of robust presence in the music industry, with in particular the discovery and publishing of some of the most successful new generation of French artists such as Vianney and Boulevard des Airs to name a few.
For more information, visit www.anotemusic.com, follow us on LinkedIn or Instagram, or reach out on Telegram.