ANote Music brings Zero Assoluto's rights catalogue to music fans globally
[English version: ANote Music brings Zero Assoluto's rights catalogue to music fans globally]
Luxembourg, 25 May 2021–ANote Music, Europe's leading marketplace for investing in music royalties, is pleased to announce a new listing from Zero Assoluto, the iconic Italian duo, which includes hits such as Semplicemente ("Simply"), Svegliarsi la mattina ("Awake in the Morning) and Appena prima di partire ("Just Before You Leave"), granting music enthusiasts and Zero Assoluto's fans the opportunity to connect with the band's music directly and own a share in the songs they love.
As the first European player to redefine how the music industry is financed, ANote Music offers entrepreneurial music rights holders the chance to retain their independence through listing a portion of their rights up for auction. Likewise, investors and music fans can directly own shares of their favourite hits, and, once shares are owned, receive royalty pay-outs from respected institutions such as SIAE, where the band is member of. They can also trade and exchange these shares with other investors on ANote Music's innovative secondary market.
"The music industry is undergoing a power shift, with artists demanding a transparent process when it comes to negotiating music rights. Increasingly, musicians are seeking to retain artistic control whilst remaining financially independent, and our aim at ANote Music is to help them achieve this. We are therefore delighted that such an established Italian artist as Zero Assoluto is the latest performer to recognise our vision and join us on our journey. It is a testament both to their creativity and entrepreneurialism and to the strength of the community we are building." – Quote from Marzio F. Schena, founder and CEO of ANote Music.
Formed in 1999 by Matteo Maffucci and Thomas De Gasperi, Zero Assoluto is an award-winning Italian duo that has collaborated with renowned Italian and international artists, notably Niccolò Fabi, Nelly Furtado and Gazzelle and Colapesce. Furthermore, Zero Assoluto were one of the first pop acts in the 90s to have successfully managed their own careers as independent artists.
Recognising ANote Music's efforts to disrupt the industry, today's announcement sees Zero Assoluto build on their innovative approach to financing. Taking back further control of their own future while also offering their fans the chance to share in their success through listing 15% of their publishing and master royalties on the ANote Music Primary Market. This includes all music produced during their extensive career and all future tracks that will get published, across the genres of Pop, Rock and R&B, all of which Zero Assoluto are famous for.
Matteo Maffucci, Zero Assoluto, adds: "Having always chosen to work at the forefront of innovative projects, we have always felt like "artist-entrepreneurs". In the early 2000s we were the first artists of the Italian pop scene to be completely independent, self-financing our musical productions and our tours. Today, after 20 years, we are delighted to announce that our drive for innovation has continued. ANote's platform is the ideal way to enhance our catalogues across undiscovered markets, while crucially allowing us to share a small part of our music with all of our fans who have loved and appreciated it over time."
Over a three-year period, Zero Assoluto's catalogue has generated royalties averaging €41,480.59 and an impressive €39,988.04 over the past year. With a total listing valuation of €579,027, the listing is set at an entry multiple of 14.50 over the last 12 months' royalties, resulting in an expected yield for investors of 6.90%. This offers exposure to a remarkable growth opportunity for investors to profit from Zero Assoluto's iconic status, not to mention a rebound in touring activity, as well as production of new tracks likely to deliver even greater results. The catalogue is listed for the entire lifespan of the artist in a bid to provide music enthusiasts and income seeking investors alike with long-term, stable returns.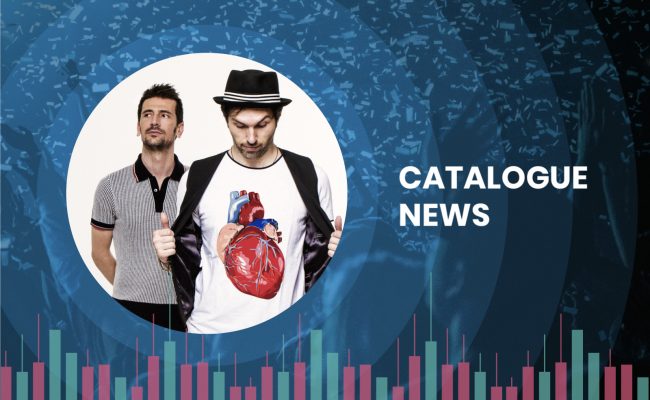 [Italian version: Zero Assoluto e ANote Music – La Musica è di tutti! (e da oggi anche i guadagni che ne derivano)]
Lussemburgo 25 maggio 2021 – ANote Music, il leader europeo per investimenti in royalties musicali, è lieta di annunciare la nuova quotazione del catalogo degli Zero Assoluto, l'iconico duo italiano, che include hit come Semplicemente, Svegliarsi la mattina e Appena prima di partire. Per la prima volta, ANote Music offre agli appassionati di musica e ai fan degli Zero Assoluto l'opportunità di entrare in contatto direttamente con la musica della band e di possedere una parte delle proprie canzoni preferite partecipando anche, in prima linea come un vero e proprio componente della band, alle royalties future sui brani.
Prima in Europa a ridefinire il modo in cui viene finanziata l'industria musicale, ANote Music offre ai titolari di diritti musicali, come imprenditori, la possibilità di mantenere la propria indipendenza offrendo una parte dei propri diritti in asta. Allo stesso modo, gli investitori e gli appassionati di musica possono acquisire quote dei propri successi preferiti e ricevere i pagamenti delle royaltiesda istituzioni rispettate come la SIAE, di cui la band è membro. Gli investitori possono anche scambiare e scambiare queste azioni con altri investitori sull'innovativo mercato secondario di ANote Music.
Marzio F. Schena, fondatore e CEO di ANote Music, afferma: "L'industria musicale sta subendo un cambiamento, con artisti che richiedono un processo trasparente quando si tratta di negoziare diritti musicali. Sempre più spesso, i musicisti cercano di mantenere controllo artistico pur rimanendo finanziariamente indipendenti, e il nostro obiettivo in ANote Music è aiutarli a raggiungere questo obiettivo. Siamo quindi lieti che un artista italiano così affermato come Zero Assoluto si sia unito a noi nel nostro viaggio. È una testimonianza della loro creatività e imprenditorialità, così come della forza della comunità che stiamo costruendo."
Formato nel 1999 da Matteo Maffucci e Thomas De Gasperi, Zero Assoluto è un pluripremiato duo italiano che ha collaborato con rinomati artisti italiani e internazionali, in particolare Niccolò Fabi, Nelly Furtado, Gazzelle e Colapesce. Inoltre, gli Zero Assoluto sono stati uno dei primi gruppi pop negli anni '90 ad aver gestito con successo in Italia la propria carriera come artisti indipendenti.
Apprezzando e riconoscendo gli sforzi di ANote Music per rivoluzionare il settore musicale, con l'annuncio di oggi gli Zero Assoluto partecipano alla definizione di un approccio decisamente innovativo al reperimento delle risorse finanziarie e al controllo del proprio futuro artistico. Oggi viene offerta la possibilità a chiunque di condividere il successo di Zero Assoluto proponendo sul mercato di ANote Music il 15% dei diritti editoriali e discografici dell'intero catalogo, includendo nell'offerta tutta la musica prodotta dagli inizi della loro carriera e tutte le produzioni che verranno in futuro pubblicate.
Matteo Maffucci e Thomas De Gasperi (Zero Assoluto), aggiungono: "Avendo sempre scelto di lavorare in prima linea su progetti innovativi, ci siamo sempre sentiti "artisti-imprenditori". All'inizio degli anni 2000 siamo stati i primi artisti della scena pop italiana ad essere completamente indipendenti, autofinanziando le nostre produzioni musicali e le nostre tournée. Oggi, dopo 20 anni, siamo lieti di annunciare che la nostra spinta all'innovazione continua. La piattaforma di ANote è il modo ideale per portare i nostri cataloghi in mercati sconosciuti, consentendoci al tempo stesso di condividere una piccola parte della nostra musica con tutti i nostri fan che l'hanno amata e apprezzata nel tempo."
In un periodo di tre anni, il catalogo degli Zero Assoluto ha generato royalties in media di € 41.480,59 e un impressionante € 39.988,04 nell'ultimo anno. Con una valutazione totale di € 579.027, il valore è fissato a un multiplo di ingresso di 14,50 sulle royalties degli ultimi 12 mesi, con un rendimento atteso per gli investitori del 6,90%. Ciò offre una notevole opportunità per gli investitori di trarre profitto dallo status iconico degli Zero Assoluto, per non parlare di un rimbalzo nell'attività di tour, così come la produzione di nuove tracce che probabilmente forniranno risultati ancora maggiori. Il catalogo è proposto per l'intera durata della vita dei diritti, nel tentativo di fornire agli appassionati di musica, e allo stesso modo agli investitori in cerca di reddito, royalties a lungo termine.
ANote Music is the European marketplace for investing in music royalties and was founded in Luxembourg by Marzio F. Schena, Matteo Cernuschi, and Grégoire Mathonet in January 2018. ANote Music has identified the power of music as the next big investment opportunity and created a bridge between the music industry and the capital markets. ANote Music enables publishers, record labels, and artists to sell music rights, introducing them to a new system of financing, as well as offering users a new investment opportunity and the chance to own shares in promising artists. In January 2020, ANote Music closed a €500,000-plus funding round, led by the European music industry's foremost players. ANote Music is also supported by Luxinnovation, the Luxembourg national innovation agency, providing access to government funding for the startup.
About Zero Assoluto
Italian pop duo Zero Assoluto was formed by friends Matteo Maffucci and Thomas de Gasperi, who met in 1995. As close friends they shared a love of music and began writing songs together. Zero Assoluto were vanguards of the music industry and the first pop band to manage all aspects of their career as an independent artist. Today, Matteo and Thomas continue to innovate and pursue various entrepreneurial activities alongside their music careers (a new EP of ZERO ASSOLUTO was released in March 2021) and run the Influencer and Talent management business, One Shot Agency and an eSport company, mKers.